What is Powerpoint?
Powerpoint is one of the most well known ways to make a digital presentation. You can use it to add text, video and photographs to anyone of your presentations, whether it's a book report or a history project. 
Why is Powerpoint so much fun? 
Your peers will pay a lot more attention if you use a Powerpoint when presenting your new book report. That's because it's not only fun to look at, but also helps them understand and remember what you are talking about. 
With Powerpoint, you can add any kind of visual support you like. You can use photographs and videos, but also draw shapes, write down the essence of your presentation and so on. If you like, you can even animate it all, so images fly in with a click of the button. 
How to use Powerpoint
Logging In
To use Powerpoint, you will need a Microsoft 365 account. Ask you parents for help to set one up through this link, or your teacher if you have a school account. 
You can either install Powerpoint on your computer or laptop; or you can use the online version. 
Surf to https://office.live.com/start/PowerPoint.aspx# to get started. You will need to login with your Microsoft 365 account to get started. 
Getting Started
To create your first presentation, you can either use a template or start from scratch. When you use a Template you like, you know your presentation will look great, but you can still edit all the colours and fonts. Starting from scratch gives you more control on what it all looks like, so you can really make it your own.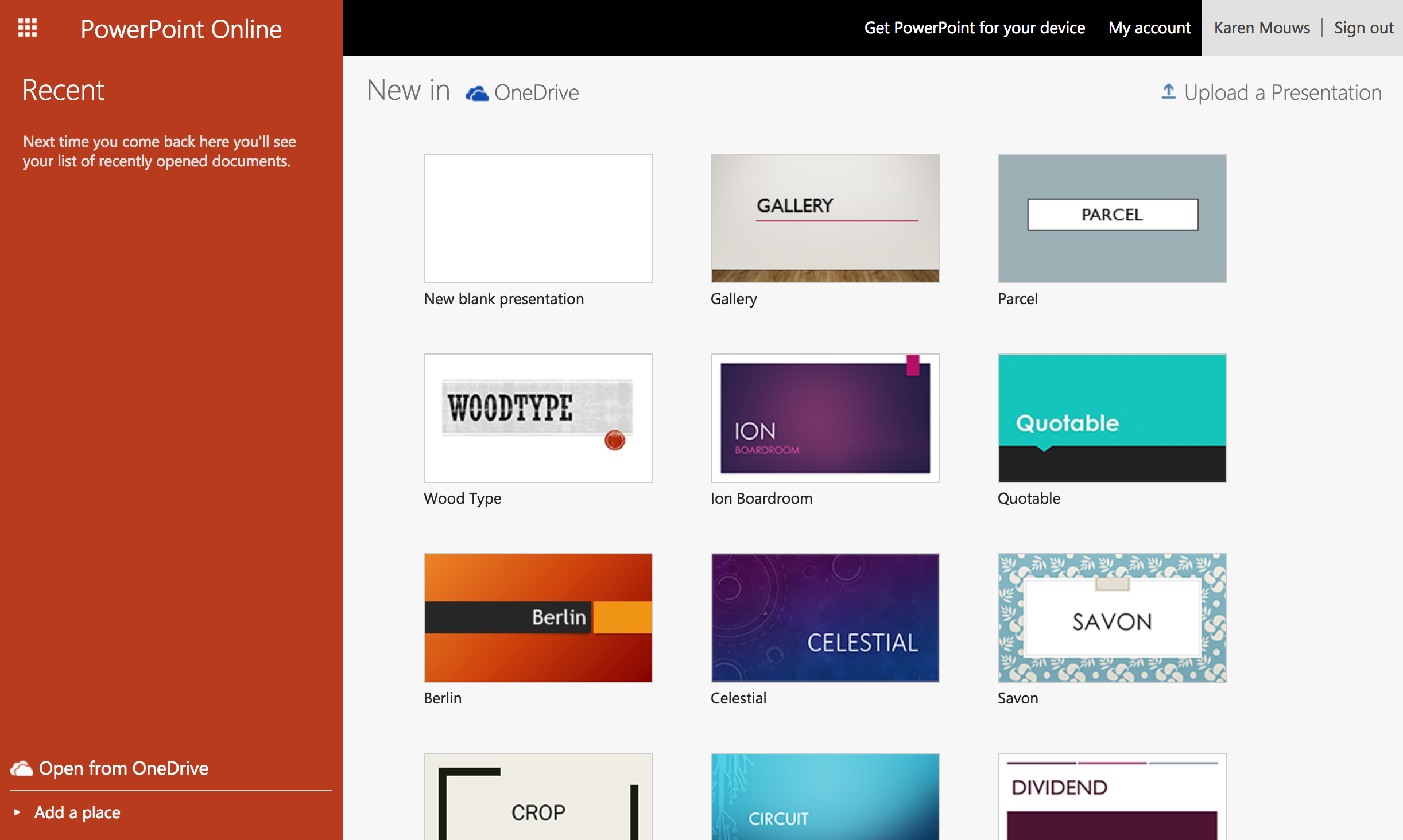 The cool thing about a Powerpoint, is that you can put just about anything in there. That means you don't just type out the essence of your presentation, but can add all kinds of visual elements to make it more interesting. Video, pictures, shapes, diagrams and so on. On top of that, you can animate it all, for example having your key pictures fly in when you push the next button.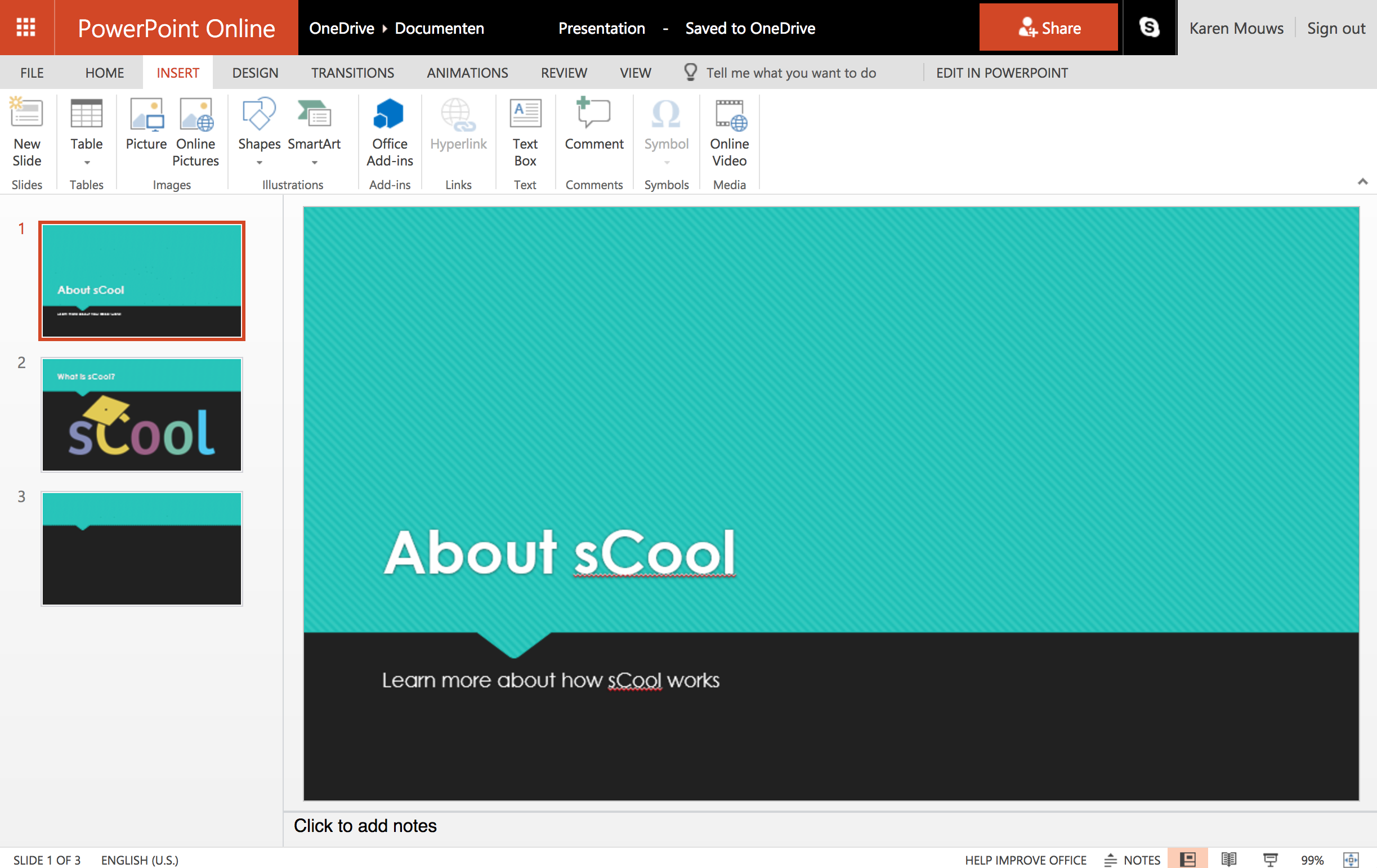 If you need any help, there is a really great function to give you practical tips. Just press the field next to the light bulb and type in what you want to do... Powerpoint will do some suggestions, but you can ask just about any question for help.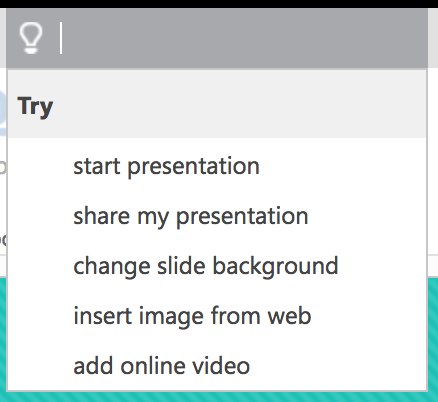 When you're done, you can save and download your file. Or you can present it on the big screen straight from the browser.
You can invite a friend or your teacher to work on the presentation together, by pressing the red Share button on the top and filling in their email addresses. 
Do you want to share your presentation on the sCool practice platform? Press File to bring up the menu and then select Share. From there, you can find the embed code you need to copy and paste into the sCool practice platform as an embedded video.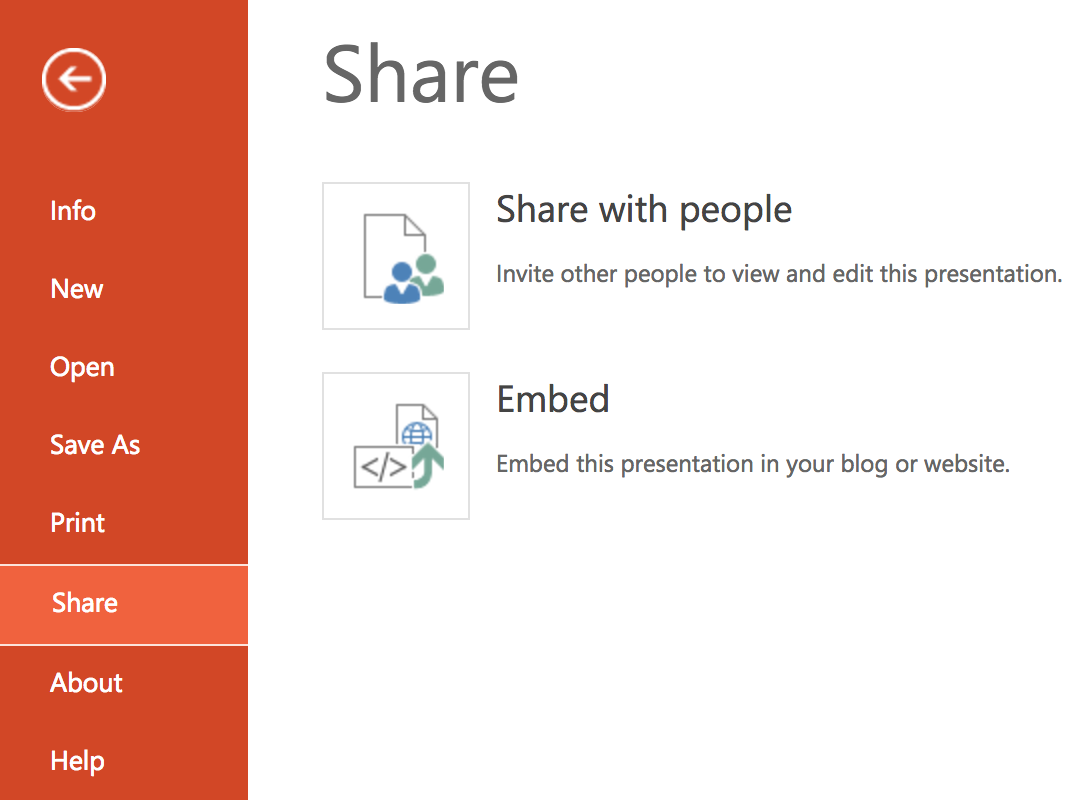 Some tips for a good Powerpoint Presentation
Making a great presentation is not always easy. Here are some tips to help you get started:
Check with your teacher first if it's possible to have a powerpoint presentation. 
Use keywords on your slides, instead of whole sentences. 
Don't put too much at once on one slide. A few keywords and a photograph is enough. 
Make sure to check the order of your slides, so they match up with what you will be telling during the presentation.
Don't start the night before you have to present. A presentation and especially a powerpoint take a thorough preparation to be successful. 
Find some good looking images, photos and videos to support your presentation. This will make people pay more attention.
Choose a good background, that is not too crowded. 
Make sure you pick a font that is legible from a distance and choose a big enough letter size (but not too big). Test this with a friend in advance to make sure everyone can see well. 
Use light letters on a dark background and the other way round. 
Here is a short video on how to create a great Powerpoint Presentation: 
Using Powerpoint in the Classroom
There are a lot of advantages for pupils and yourself to using a digital presentation: 
It is easier to have a message come across during a presentation. A Powerpoint will show the subject and keywords while the pupil can verbally explain it all. 
Making a powerpoint presentation is a lot of fun, especially for creative and more visually oriented pupils. 
A presentation with a powerpoint is a lot more pleasant to follow, thanks to the visual support. This will increase attention in the audience. 
Pupils can use pictures, drawings and even videos to support their presentation. 
Everyone gets a good view of what the pupil wants to show, as it's on the board. 
You can use powerpoint presentations to support all kinds of topics, while at the same time increasing pupils' ICT skills. Of course, making a digital presentation also requires a lot of planning and some creativity.
Children will have to think thoroughly about what they want to say and what the keywords are to put on the slides. This will increase their learning experience. 
Do make sure you support your pupils when making their presentations. They will be tempted to overload their slides with too much images or use long sentences. That way, it becomes impossible to see what the slide is about. Watch this video on Death By Powerpoint for inspiration. 
748

views

0

previews

2

versions
Avg. Rating:

Updated By:

Karen Mouws

January 20, 2017

Posted By:

Karen Mouws

January 20, 2017

Versions:

v.2
---