What is a Forum?
To understand what a forum is at sCool, we need to go back in time, to the roman times!
Back then, a forum was a place, located in the center of a town, where the citizens came together and exchanged ideas. They made important and less important decisions by voting.
It's the same way at sCool. Admittedly this is a virtual area, which primarily is used to collect ideas. This makes it easier for the student counsel to collect idea's. By doing this virtually, we are sure not a single idea will be lost.
Types of Forums
At sCool we have different types of forums. You can ask questions, submit idea's, start disscussions or try and find a solution to a problem. So basically you can take part in a forum in two ways, you can start a new idea or you can answer to a certain idea.
| | |
| --- | --- |
| Start a Discussion | |
| Ask a Question | |
| Propose an Idea | |
| Report an Issue | |
Start a Discussion
Would you like to discuss something with your class- or sCool-peers, for example about wind energy? That's possible. You can use a discussion forum for all sorts of themes and topics. You can discuss about history, about science, you name it. This kind of forum is therefore most suitable for group works. You can exchange information to each other. It is just as if you were sitting next to each other to work together, even when you're not physically in the same room
Pose a Question
Do you have a question and are you looking for a decent answer? Make a forum! Pose your question, for example, what is the best solution for an problem; or in you're wondering which color the walls in the playground should be painted. In the classroom, you can ask questions about what you have to study and other things.
Suggest an Idea
Do you have a lot of ideas? You can send them to the indeabin of your class, doesn't matter if you're in the Student Counsil or not. Before you know, you'll receive a Forumbadge for you're amazing idea. 
Report a Problem
When you see a problem, you can report it in a forum. Other students can help you solve the problem.
Start a new Forum topic
You can participate on forums by making a new forum-topic or by replying on a forum topic of someone else. So a topic is one specific conversation on a forum; with all the comments included. 
Now we'll show you how to add a new idea in the ideabin, other forums are found in your classroom. Click on the top of the page, in the navigation, on the forum icon
Then you click on the image of the ideabin.
At sCool, you start all the forums in the same way: click down below on the button 'Add Topic'
You'll enter a page where you can post all the essential information about your forum. Enter a title in the box named 'title' that clearly states what your forum is about. If you're posing a question, make sure your title is worded as a question.
On the left, you can choose the type of forum you want to start: a discussion, a question, and idea or a problem. This option will appear in the extendable menu. Do take the time to fill this in correctly since this is very important to receive the response you aimed for. in the blank space below, you need to broaden your question, idea, statement. You can always add photo's and video's to make it more clear and interesting for your peers.
When you're done, you click on the green button "Publish" down below.
Respond on a Forum topic
You can also reply to an existing forum, because posing a question or an idea without your peers commenting on it doesn't make much sense. so take a look at the new forumtopics on a regulair basis and take part in the discussion. this will help your peers and they can return a favor someday.
Follow a Forum topic
Did you reply on someone's Forum question or are you middle in a debate? Click 'Follow' to get notified when someone comments something on the Forum.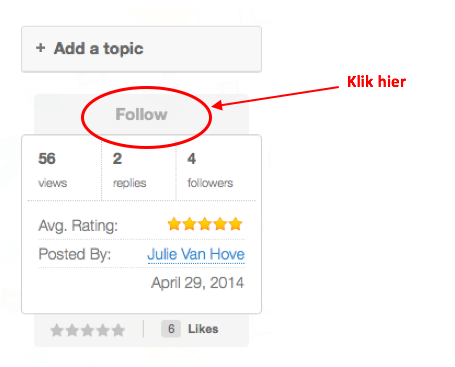 Choosing your conclusion
Conclusively, when you totally agree and this is the perfect answer to your question you can submit it as "conclusion". This way others can see that this answer was the most correct to you, the question-poser.
Click down below on "mark as resolution", next to the button with the likes and now everyone can be notified of your chosen conclusion.
Watch the video
Take a look at the short instruction video on how to use the Forums: 
Have fun!
1,090

views

0

previews

5

versions
Labels:
Avg. Rating:

Updated By:

Karen Mouws

November 2, 2016

Posted By:

Shreya Mehta

August 22, 2016

Versions:

v.5
---