|
Media Literate Assignment: "Media Sheriffs"
The Media Sheriffs: The rotation
At sCool we have a rotation. It's a very important rotation! You might have heard of it? It's called the rotation of the Media Sheriff. Maybe they have a different name for it at your school, such as Media Watchers, Media Watch-Dogs,... But in the end, they all have the same tasks. 
When it's your turn, you'll have 2 tasks:
Assisting the teacher, by for example filling in the Class Journal, etc. 

Be the watch-dog that keeps his eye out on sCool, in the Media and on Social Media.
Every week there are two students that get to be the Media Sheriffs. They should be up-to-date on everything that happens in that week and they have to keep an eye out on sCool and on Social Media in general. They must check if none the rules of the Social Contract are being broken and that everyone has respect for each other on and off the net.  
The Media Sheriffs also need to keep their eyes open and observe everything. Is someone being left out? Did something super cool happen? Are there things that aren't that great? Have you learnt something new?
In the end of the week they have to make a little Media Literate Assignment and present it in class. This assignment can be written in a blogpost, but it can also be something creative such as a video or a photo collage. You can show us your talents by using all the multimedia you want. 
If you want to know more about the Media Sheriff, check out our lesson packet on it. 
A little TIP for the teacher: 
If you don't use sCool, you still make use of the Media Literate Assignment. A big amount of your students are active on various social media and the internet such as Instagram, Youtube and maybe even Facebook. You can ask them to keep an eye out and to report something wrong it they see it. Encourage them to reflect on themselves in a creative and fun way.   
How do I get started?
During your week as Media Sheriff, you need to maintain a logbook. Click on the picture below to download and print your own little logbook.
Everything you write down in this logbook can help you when you're making your Media Literate Assignment. Did you learn something that you want to talk about or have you have a good (or bad) experience at sCool? You can also tell us about something that you've seen on social media such as Instagram, Snapchat and Facebook. 
Next you have to make a fun little assignment on the things you wrote down in your logbook. You can write a blogpost, but we challenge you to be creative and use the multimedia in different ways. You can take a picture, make a video, make a stop motion movie, make a presentation using Prezi, etc. Just show us your talents and make something great out of it. 
Where do I upload my Media Literate Assignment?
Are you finished with your assignment? Super! Now it's time to put it on your blogchannel in 'News and the Media'. 
Surf to your class and then click in the navigation on 'Learning with Blogs'.


Then you'll find the button 'News and the Media'. Every student has their own blogchannel, just like in the Talent blog.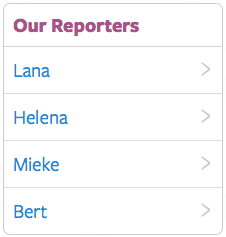 Then click on the button  "+ Add Article" on the bottom of the page and choose your name in the list.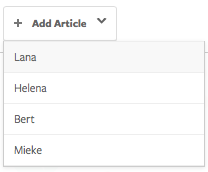 Now you'll see a familiar screen, the one to make an article, just like any other blog. You can upload your assignment here. Don't forget to add videos and photos, if you have any.  

The assignment will be checked by the teacher. Once they've done that, you receive a digital Sheriff badge on your sCool-Profile. You can now show the others that you made an excellent Media Literate Assignment. 
If your assignment is truly very amazing, it might even be published in the sCoolPaper, underneath the quire 'Media'.
Want to learn more?
Then take a look at the Media Sheriff learning guide for teachers. 
Have fun reflecting!
851

views

0

previews

3

versions
Avg. Rating:

Updated By:

Karen Mouws

January 6, 2017

Posted By:

Shreya Mehta

January 2, 2017

Versions:

v.3
---