|
F.B.I.: Cyber Surf Island
FBI Cyber Surf Islands: a cool game made by the FBI
I bet you've heard of the FBI or seen them on TV. They're the American agents in charge of national crime cases. They're also in charge of something called Cyber Security, the safety on the internet.
The FBI has made a cool game where you can become an agent as well! The game is an journey through a bunch of islands where you can learn about Cyber Security. Each island is for a specific age-group so everyone can play! 
Who would play this game?
Are you a student in 1st to 6th grade and are you into adventurous learning? Try out Cyber Surf Islands for yourself! You can ask a parent or your teacher for help if needed. 
How to play Cyber Surf Islands? 
Surf to the website: https://sos.fbi.gov/  and choose an island based on the grade you are in at school. Click on an island and  get started! There are a lot of missions awaiting you! Every island has a fun collection of games just for you to play! After doing an islands, you can take an 'exam' to check how much of a skilled agent you have become by clicking on the hot air balloon in the top right corner of your screen. Pay attention during the game and then show off your Cyber Security skills when taking the exam and share the result with your friends. 


Tons of games, tons of lessons
Don't think you get bored playing this game, on every island you will find at least 7 types of mini-games leveled for your age group. You will not only be tested on your knowledge but also on other cool skills you need to become a real F.B.I agent.
Spin The Wheel: this game is all about knowing what you can and cannot do on the web! Make the right cyber decision! 
Cyber Word Search: look for the media literate words through the eyes of an agent
Build the Tower: test how fast you are 
Sliding Puzzle: how fast do you see the answer?
Spy Glasses: Look for the secret messages using your spy glasses 
Diver: can you find the correct word or will you sink in the sea?
The Tower: and off course also an agent loves to watch fun videos about cyber security 
When you're done with the mini-cyber games, you are 100% ready to sit the exam and show us how much of an agent you've become! Don't worry, it's not a real exam. Look at it as just another game to see how well you played the previous games. 
Did it go well? Go check out the other islands too and share the FUN with your friends
For the teacher: how can you use this game?
This game can be a nice way to learn about cyber security in school. This games makes being safe online fun, because come on, who hasn't dreamt about working for the FBI as a kid? The hero's like in the movies that solve the case and are looked up upon? This game can make them feel like that hero for a little while.
Check out the Official FBI CSI Teacher Guide in the attachments below. It's has some interesting tips and tricks that you can use in your classroom!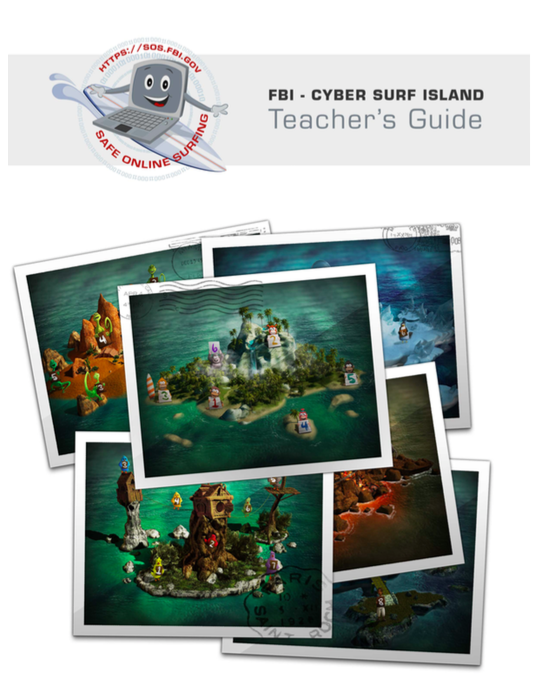 Have FUN!
1,220

views

0

previews

5

versions
Avg. Rating:

Rating: 5out of5

Igloo.Old.Common.ObjectUserInfo

Updated By:

Katja Schipperheijn

January 5, 2017

Posted By:

Karen Mouws

January 3, 2017

Versions:

v.5
---