What is Facebook?
Everyone knows Facebook (or FB in short). It's one of the biggest social networks you can find online and is used by over 1.35 billion (!) people. That's more than quite a few. You would think Facebook has been around for a long time, but the opposite is true. It was founded in 2004 by a group of students, to be able to connect with each other. Now we can't even imagine our lives without logging in regularly to check our timelines. The platform allows you to see how you're friends are doing, what photos or videos they've shared, what events are on this week and so on. You can even follow the news on Facebook, but you do have to be careful: not all articles you stumble upon are true! 
You have to be 13 or older to be allowed to create an account on Facebook. 
What makes Facebook so popular?
We've mentioned it before: millions of people use Facebook and are having a great time while at it. The social network has however been losing its popularity, especially with the youth. They migrate to other online social networks, such as Instagram or Snapchat. You could say Facebook has been the victim of its own popularity: it stopped being cool the moment (grand)parents created their own accounts and started sending friend requests. 
But why is Facebook still so impressively huge, with over a billion users? That is because on FB you can do (almost) anything that's possible online. You can create a personal profile, make friends, share photos and videos, talk about your day, send messages through Messenger, plan events, follow pages for information, read the news, create groups with your friends and so on. Recently, they even added the option to share live events through video streaming. Facebook is the best at collecting all the fun functionalities of other social networks in one place.   
Share, share share
You can share just about anything you like with others on Facebook. You can use written text, for example to tell what happened today or to voice an opinion on the news, but also pictures and videos. This way, you can really show your life to your friends. You do have to pay attention though that you don't share your updates with the whole wide world. Just like on the sCool practice platform, you always have to think before you share. Luckily, you have the option to choose an audience with every single article you post, thanks to the privacy settings below the editor. That way, you can configure your message so it's only visible to your friends. You can get even more control over your audience, by making groups within your friend list and choose who gets to read what. If you don't know how to do that, check out the official help page.

When you run into an article you like, you can share it with all the other Facebook users you're in touch with. This way, the best and most fun articles travel around the world: by simply pressing the share button. Before you know it, a photo or video might go viral. Sharing is -together with likes- one of the foundation of almost all social networks. 
Likes: handing out and receiving them
Almost all social networks have a way of showing when you think something is great. On Facebook, you use likes: the well known thumbs up. Did you just run into an article that really speaks to you and you would like to show it? Just press the like button below. That way, the person that posted the article will know that you support him or her. 
Lately, you can do even more than just a thumbs up. Facebook introduced a a whole new range of emotions to respond with to a message, photo or video: like, love, funny, surprise, sad or angry. 

Likes are a great way to support each other and give positive feedback. Of course it's equally fun to collect compliments. A lot of people try to receive as many likes as possible in response to their messages, photos or videos. But maybe you should stop and reflect before you hand out that thumbs up, on why you're doing it. 
We discuss the 'rules' on liking in the Social Online learning guide. The most important rule of them all is that we like what we like, not who we like. That sounds complicated, but it's actually very easy. You press the like button whenever you actually like a message, photo, video ... Not just when your best friend posts a new profile picture, but whenever anyone posts something fun, even the people you might not talk to as often. 
Facebook is not a popularity contes, from which some people are excluded and they never receive likes. Do you like an article? Don't even look at who it's from and just click that thumbs up icon. Does a good friend share a post you really don't like or just don't care about? Then leave the like button alone.  
Talking, chattering, yapping
Of course Facebook also allows you to just send each other messages. That's what the Messenger functionality is for. You can have a one-on-one conversation, for those personal chats, or you can start a group conversation, for example with all your classmates. That way, it's super easy to let the right people know that the trip tomorrow has been postponed by an hour or that you want to go out for pizza tonight. 
Using emoji's (such as      ) makes chatting even more fun. These are little icons, usually of a face, that show what feelings are behind the written words. You can also use stickers to make your message clear: fun images (that sometimes move as well), bigger than emoji's and often based on cute or well known figures such as Pusheen. Why don't you try to have a complete conversation with your friends that exists only of images? It's a fun challenge with hilarious results!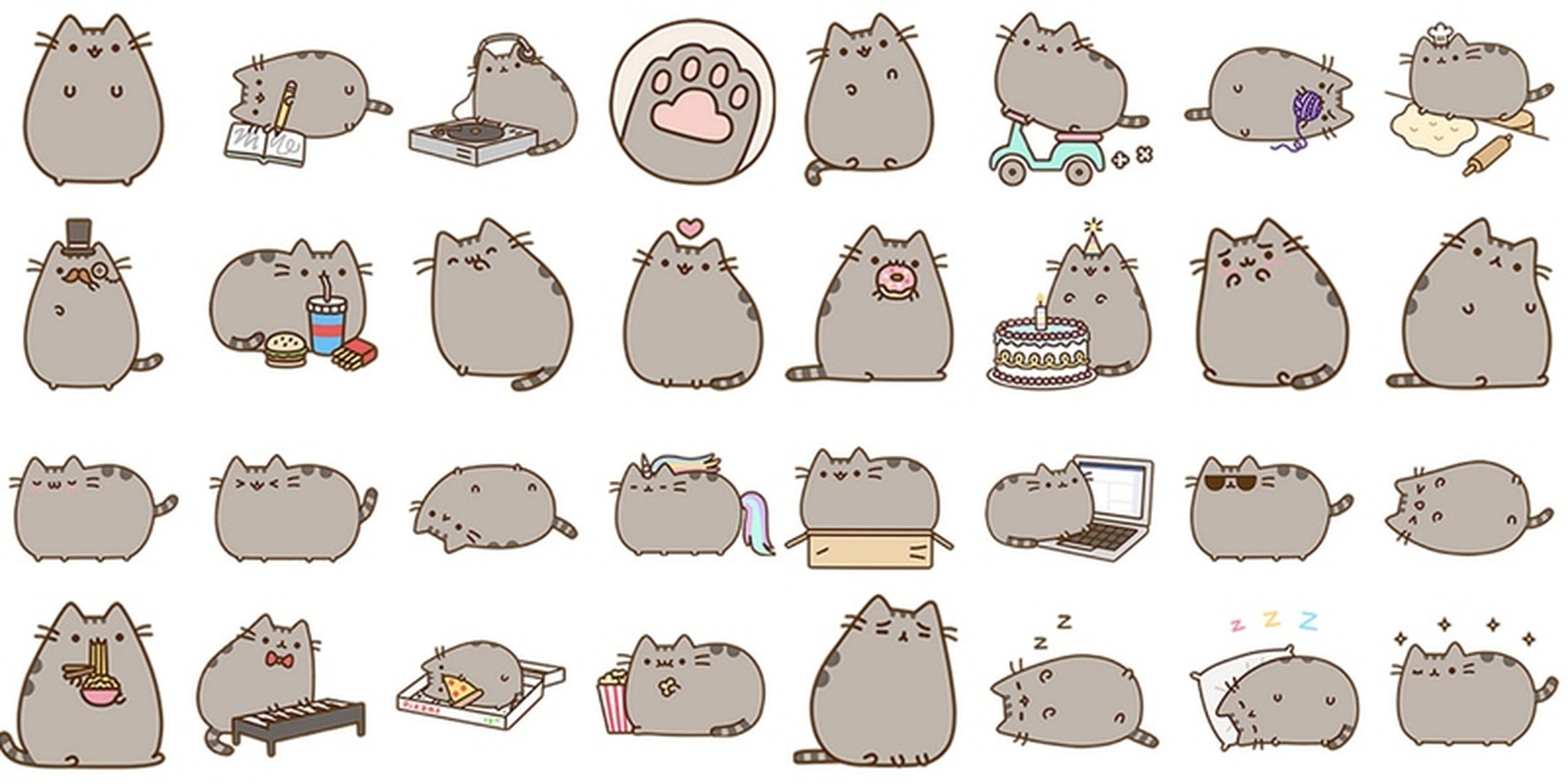 These stickers are the property of Facebook & Pusheen
Show yourself through your profile and profile picture
Of course Facebook allows you to show yourself. For example, for some people it is of the utmost importance to have a new, cool profile pic every week. Anything less won't do. That picture allows others to recognise you, as it will appear next to your name on every post you make or share on Facebook (just like on the sCool practice platform). 
Did you know that this picture is always visible for the whole internet to see? It turns out you can't set your profile picture and the banner image on top of your profile as private. The option just isn't there. But that doesn't mean you can't do anything to protect your privacy. You can go to your privacy settings and indicate that your profile picture can not be used by search engine results, such as Google. Check the official Facebook Safety Page to learn more about this. 
Because your profile picture is always visible to others, it is not allowed to use a picture that shows someone else, not even if you're on it too. So you shouldn't use that picture of you posing with your best friend, brother or sister. After all, that person did not give any permission to just spread his or her face all over the internet. There are even laws about that, protecting people's privacy in photos and videos. So make sure you always select of your picture that only features you. That way, you will at the same time avoid confusion about who you really are on that photograph with your brother. 
Apart from your photograph, you can share a whole lot of other information about yourself. Facebook will pose a lot of questions, such as where you live, go to school or work, what you like to do and what movies you enjoy. Remember that you are never obliged to answer any of these questions. Anyone can read this information about you, especially if your profile is set to public. It's always best to be careful with personal information, such as your name, age, phone number, address or location of your school, even when you're sure your profile is set to private. You never know who might be reading along across a shoulder.
How to use Facebook?
When you are old enough and want to use Facebook, you will want to create an account and most importantly: thoroughly secure your profile. Facebook has some tips for you on how to keep your account safe and they even created a whole safety center. 
Do you have any good tips to share with us or a concern about Facebook? Let us know in the comment section below or send us an email.
What to look out for on Facebook?
Facebook is a very fun and cozy place. It won't take long before you are tempted to share a lot of information about yourself. You do however have to take great care, because before you know it anyone can watch your life over your digital shoulder. That's why we have some tips for you:
Make sure your profile is set to private. That way you can avoid that just about anyone reads along. 
You should only accept friend requests by people you know and trust in real life. Don't befriend any strangers. When you do receive a friend request by someone you know, you should show your parents and not respond at all. 
Don't share any private information about yourself, such as your address, phone number, age or any info about your school. 
Take great care what photographs or videos you share. Often, these are also visible to 'friends of friends' and if you tag someone, even more people get to see them. People can really learn a lot about you and your life through these images. 
Facebook in the classroom
Many of your pupils will already have an account on this social network and it's quite important to talk to them about it. Don't panic: Facebook can be one of the safest places online, if you set up your privacy settings correctly. You can inform peoples and raise awareness by asking a neutral party to search for their account (of that of their friends) on Facebook. They will be amazed how much information is readily available about them. 
You might have noticed that the sCool practice platforms resembles Facebook. That's why sCool is the ideal environment for pupils to practice and experiment in and to prepare for social media later on. They can safely explore privacy settings, sharing messages with certain groups of people, showing their identity online and so on. 
Try to organise a group discussion on what you should(n't) share on Facebook. Pupils will often know a lot about this topic, but don't always apply that knowledge. They might not always realise that photographs can be spread online, even after they've deleted them themselves. You should also discuss online popularity and liking. The Social Online Learning Guide will help you set up some agreements for social responsible behaviour online and how to treat each other with respect.  
At the same time, the topic of Facebook can be a great conversation starter to talk about online advertising and data collection. The main reason that Facebook is 13+ is because they collect data about their users and offer personalised advertising. This data even gets sold to third parties, such as big advertising agencies. They can then show you the 'right' products at the right time. Facebook takes this very far: they even know what other websites you visit. The law (in the USA and many other places) prescribes that companies cannot collect data from children under 13 nor can they advertise to them. So that is why children are considered too young to create an account: Facebook can't earn any money on their backs. 
Have fun!
1,326

views

0

previews

3

versions
Avg. Rating:

Updated By:

Karen Mouws

January 16, 2017

Posted By:

Karen Mouws

January 3, 2017

Versions:

v.3
---